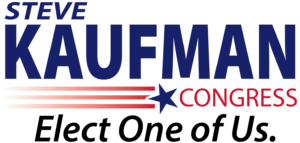 For Immediate Release
June 6, 2016
More Info: Lisa P. Pappas
(904) 476-6321
Steve Kaufman
(904) 388-4477 (O)
(904) 710-0324 (C)
Long Time Small Businessman, Retired Veteran Joins Race for Crenshaw's Seat
 Jacksonville – The owner of a 25-year small business, and a retired 27-year Navy Reservist, is entering the Republican primary for Florida's 4th Congressional district.
Steve Kaufman, owner of SJK•PR, a Riverside marketing firm, says he's entering the race "to represent those First Coast workers, businesses and families struggling to get ahead in the Obama economy."
"No one running brings my kind of background to this race," Kaufman says. "Small businessman, business survivalist – during and after a 15-month Navy Reserve recall – and international experience at some of the highest levels of decision- making in Operation Enduring Freedom. "
As neither a career politician nor millionaire, Kaufman acknowledges his campaign is a long-shot, but believes voters of Northeast Florida are hungry for a change from the established political order.
"I'm running a very different campaign than the others," Kaufman says. "I'll be accepting no special-interest Super PAC, or PAC money—strictly individual contributions: I'll answer to no one but the voters. Even after all these years in business and the military, I'm still an unabashed idealist….and I'd appreciate voters contributing at www.ElectOneOfUs.com "
In addition, Kaufman says he's a non-career politician who never wants to become one, reviving the Tillie Fowler example of eight is enough. "If the voters bless me with four terms, I'll serve as best I can and then come back to work in Jacksonville's vibrant small business community," he says.
Kaufman says his most important issues will be helping a future President Trump make shrewd deals to jumpstart the economy, and protect and grow Northeast Florida's military infrastructure to strengthen its natural strategic position.
"With no money, organization or name recognition, I fully realize this is a 'David and Goliath battle'…and clearly, I'm David." Kaufman says. "But I kind of like how that story ends."
For more information, visit www.ElectOneOfUs.com.
###
www.ElectOneOfUs.com
Paid for by Kaufman 4 Congress